Secretary to the British Aikido Board – Shirley Timms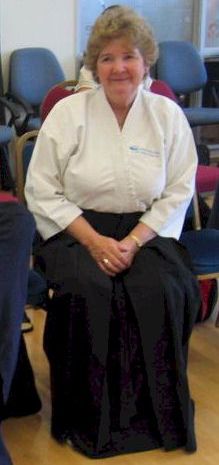 Shirley Timms I was first introduced to Aikido in 1967 when my late husband, David Timms started practising with the then Renown Aikido Society, later to be renamed Institute of Aikido. In 1971 David was awarded 1st Dan, he became so involved, I complained that I never saw him so he persuaded me to start practising and that was in 1972. In 1979 I was awarded 1st Dan by Mr Hadyn Foster, and 2nd Dan March 1989.
When the BAB was newly formed, I attended the first meetings with Mr Foster and David as an observer, which were held at Wood Green Police Station under the Chairmanship of Chief Superintendent Ken Wilkinson. As a professionally trained secretary I just could not sit on the sidelines and appear invisible, so I took notes, which were borrowed by the then secretary for Minuting purposes. The first two secretaries resigned for one reason or another and I was asked to stand in on a temporary basis until they found someone else. That was in 1981 and I am still in post, so I must be doing something right.
Chief Superintendent Wilkinson resigned, so we had to find a new home for the BAB meetings, and Mark Maliney, who was treasurer for the UK Aikido Federation, offered the BAB his offices in Cricklewood, which were free, and that was the base for BAB meetings for a number of years until we out-grew Mark's premises
Sadly in 1994 David died and I stopped practising on a regular basis, but my son William entices me back for ad hoc sessions on special occasions.
In 2016 I was awarded 4th Dan for services to Aikido, which I felt much honoured to receive.