Ann Billett – Vice-Chairman
I have practiced aerobics and martial arts for over 37 years and was Judo Coach for several years for Enfield Girls Judo team for the London Youth Games. I have also practiced Aikido for over 35 years and am a 2nd Dan Aikido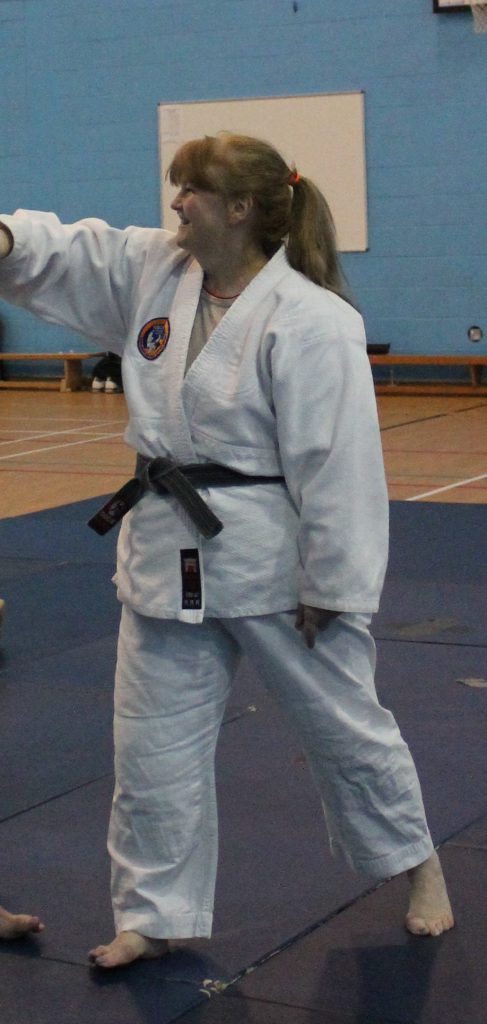 instructor at the Winchmore Hill and Chingford and Woodford clubs. I first started martial arts in October 1983 at University because I thought that I needed to defend myself coming to London from Devon and imagining that the city was a very dangerous place.
Judo was my first choice of martial art and was also how I met my future husband Steve Billett.
I then spent a number of years practicing at City University, Stumphouse Judo Club and Croyland Road Judo Club and teaching Judo at Winchmore Hill – London Borough of Enfield, and the Mornington Crescent and Sacred Heart Judo Clubs at Kings Cross to kids from 6 to 16 years old. Our finest hours came taking coach loads of kids to shout for their team mates in the London Youth Games where over 60 medals were won for Enfield in over 3 successive Youth games at Crystal Palace.
I was introduced to Tomiki Aikido in the mid eighties by Don Bishop (7th Dan ADS) and Steve Billett (6th Dan ADS) and have never looked back. On the way to finally achieving my 1st Dan at Aikido in December 1996, I trained and leant a lot at several Aikido clubs – Whittingham, Hayden's Gym, David Lloyd Chigwell and Winchmore Hill, and enjoyed both teaching Aikido and participating in several charity events – British Aerospace Cheshire Homes open days, Enfield Town show, Kids sports development in inner London, Hayden's Gym open day to name a few.
In nineties I also found time to gain both my British Aikido Board Coaching Award and my RSA Aerobics Instructors Certificate teaching Aikido in the evenings and a few aerobics classes at lunchtimes at British Aerospace, Hatfield.
Experience
Secretary Aikido Development Society, 1999 – Present
British Aikido Board, Coach Tutor, 2005 – Present
Governor and Chairperson, Selwyn Primary school 2006 – 2010
Women in Science & Engineering Ambassador, IMechE
London Youth Games Judo Coach for Enfield 5 years
Manufacturing Facilities Engineer & Project Manager, British Aerospace Hatfield 1985 – 1994
After market development manager, Warranty business office manager, Software Business Development
Manager, Global Diagnostics Procedures, Ford Motor Company 1994 ~ Present